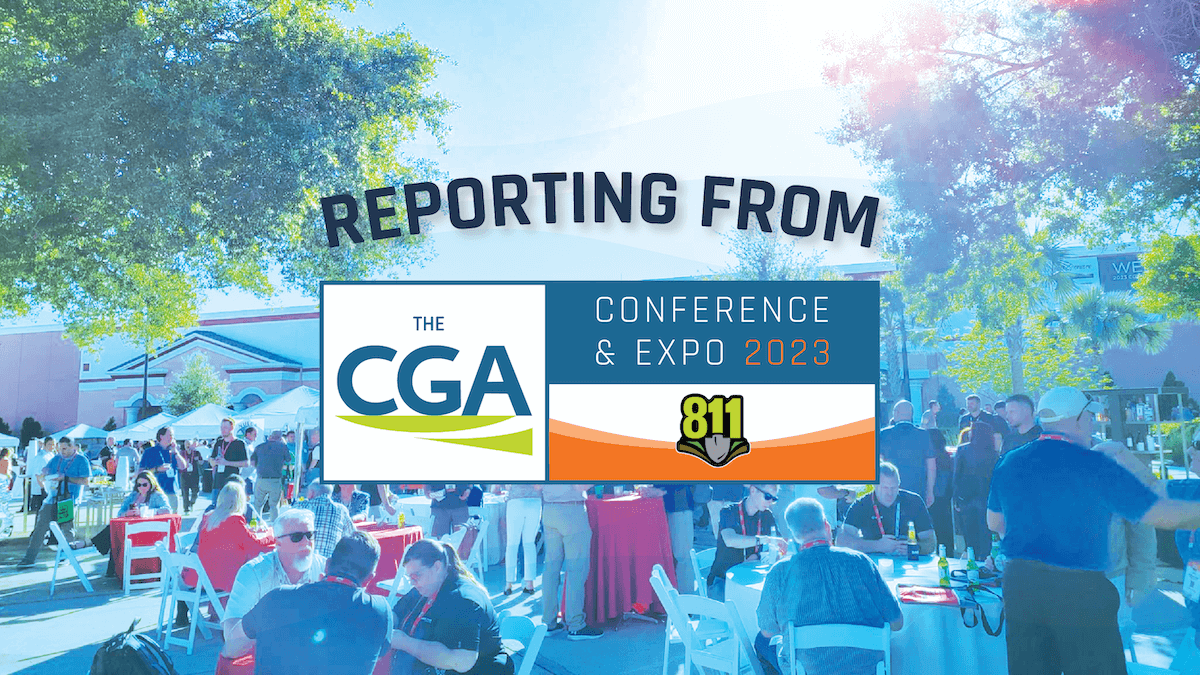 I'm in Orlando, Florida right now for this year's CGA Conference and Expo. It's great to be back amongst our peers and discuss damage prevention. I've been lucky to make some great friends within the industry and so this month's NoDamage article is a little different as I'm not just giving my opinion or outlook; instead I've crowdsourced this content from some of the different discussions I've been having. These are some of the changes and challenges which I've been hearing over the last few days;
One Call Standardization
Potholing
Sharing Maps
50 in 5
Locator Certification
Enbridge charging for locates
1. One Call Standardization
There is a desire in the industry from stakeholders who work with multiple 811 centers for a standardization of processes and data management. Right now there are 5 main software providers for One Call centers and 2 internally developed one call portals (Chicago and PA811) across the US. The variation in data flows and how ticket management systems interact with these solutions is needlessly disparate. It's true that there are dynamic needs depending on state or local legislation, but this data could be placed below the standardized data. Consolidating into one agreed upon framework which allows state specific differences would allow stakeholders to streamline their work and enhance transparency in the 811 process as well as allowing improvements being rolled out at a national level. I'm thinking this would look something like the AASHTO system. Competitors are involved with the AASHTO MDM formation. Basically it creates a standardized set of rules for software providers like One Call Concepts or GeoCall to comply with while allowing them room to create and innovate.
2. Potholing
Encouraging excavators to pursue potholing / vacuum excavation isn't new but it has been a constant refrain at this year's CGA. In Ontario vacuum excavation is already a mandatory part of the damage prevention process but unfortunately in the US it isn't common place enough. According to the DIRT Report "no potholing procedures prior to verifying marks" caused 5% of damages. Adoption needs to happen either through incentification or penalisation, otherwise we're going to see more damages, especially as fiber installs ramp up! Hand tools are cheaper and easier to use but if there was a larger financial incentive to use vacuum excavation and dig safely then the balances would be tipped and our industry would change for the better!
3. Sharing Maps
Put bluntly, facility owners and utilities are not sharing data enough with other stakeholders. This starts a downward spiral which leads to SUE firms guessing where utilities are located without GIS data or design tickets and results in inaccurate data. There's no excuse for failing to share maps with your engineering firm and there's no real excuse for sharing it with other stakeholders if you're truly interested in damage prevention. Security concerns are the main argument against sharing data but if they've figured it out in New Zealand and in the UK then we can figure it out here in North America. It's kind of embarrassing that people in our industry keep trotting out the same old excuses.
4. 50 in 5
50 in 5 is this year's big theme and I've covered it before, so you know my opinion. Speaking to a number of people here at the CGA though, the feedback I'm getting is that our trajectory is not on point to meet this target. Progress is slow because of a number of things; including a lack of urgency, 'not my problem' workforce issues, enforcement of dig law, and "reactionary enforcement." Reactionary enforcement heavily impacts locators because they get fined for damages and line strikes, but no one really gets fined for calling in bad locates. In addition, the impact from the investment from the Infrastructure Bill is going to be huge over the next 5 years, this will make 50 in 5 more important but also harder to achieve. This goes back to point three - sharing data. There is a huge opportunity to meet the 50 in 5 goal but we need to make some big changes in order to do so.
5. Locator Certification
There's also been an undercurrent of demand for locator certification.This would increase prestige in our industry and lead to better locators. Mike Parilac from Staking University has a vision to change our industry with a certification program which would recognize locating as a trade. It would also make hiring and onboarding easier and hopefully lead to higher wages for locators. There's a lot of money in our industry but unfortunately locators are generally underpaid and undervalued.
6. Enbridge Charging
There's also been a lot of chatter on Enbridge charging for locates. Utility owners are interested in exploring these possibilities and people are scared of it undermining the 811 system. Enbridge have since placed this program on ice but judging by the conversations I've had here at the CGA and over the last few weeks a lot of companies are waiting with bated breath to see how it might work out. Watch this space!
Thanks for joining me on the 'Road to Zero', hopefully when I report on this next year we've made some major gains as an industry!